Invited Speakers




Prof. Songgang Qiu,
West Virginia University, USA
Dr. Songgang Qiu began his professional career as a senior principal engineer at a Research and Development company in 1997. He was quickly promoted to Vice President. In 2004, he led to create a R&D division to pursue government projects. He joined Temple University as a full professor in 2012. Currently, he is the full professor at West Virginia University. Over the last twenty years, he has served as principal Investigator for several dozes of government and industrial sponsored research projects. His current sponsored research projects are focused on power generation, energy conversion, solar energy, and energy efficiency.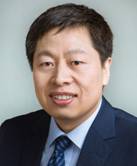 Prof. Hengxu Zhang,
Shandong University, China
Vice President of School of Electrical Engineering

Professor; Director of National Joint Engineering Research Center of Electric Vehicle Access Grid Technology; Executive Deputy Director of Key Laboratory of Power System Intelligent Dispatch and Control of the Ministry of Education; Dean of Synergy Innovation Center of Global Energy Interconnection; IET/IEEE Member, Member of Chinese Society for Electrical Engineering; Associate editor of IET Energy Systems Integration, Editorial board member of Protection and Control of Modern Power Systems.

Hengxu Zhang received the B.E. degree from the Shandong University of Technology in 1998, and the M.S. and Ph.D. degrees in electrical engineering from Shandong University, China, in 2000 and 2003, respectively. He is currently a Professor with the Key Laboratory of Power System Intelligent Dispatch and Control, Ministry of Education, Shandong University. His main research interests include power system security and stability assessment, power system monitoring, and numerical simulation.